We invite individuals and families to attend RTOP's Volunteer CORPS Open House
This informational meeting will introduce our new program and ask for local feedback as we shape a vision for the future together!
WHERE: RTOP Theatre, 122 N Grand AVE. Pullman WA 99163
WHEN: MLK National Day of Service, Monday JAN 16 from 5:30-6:30 pm
We rely on a vast network of volunteer to make the work we do possible!
Thank you for expressing interest and being a part of RTOP!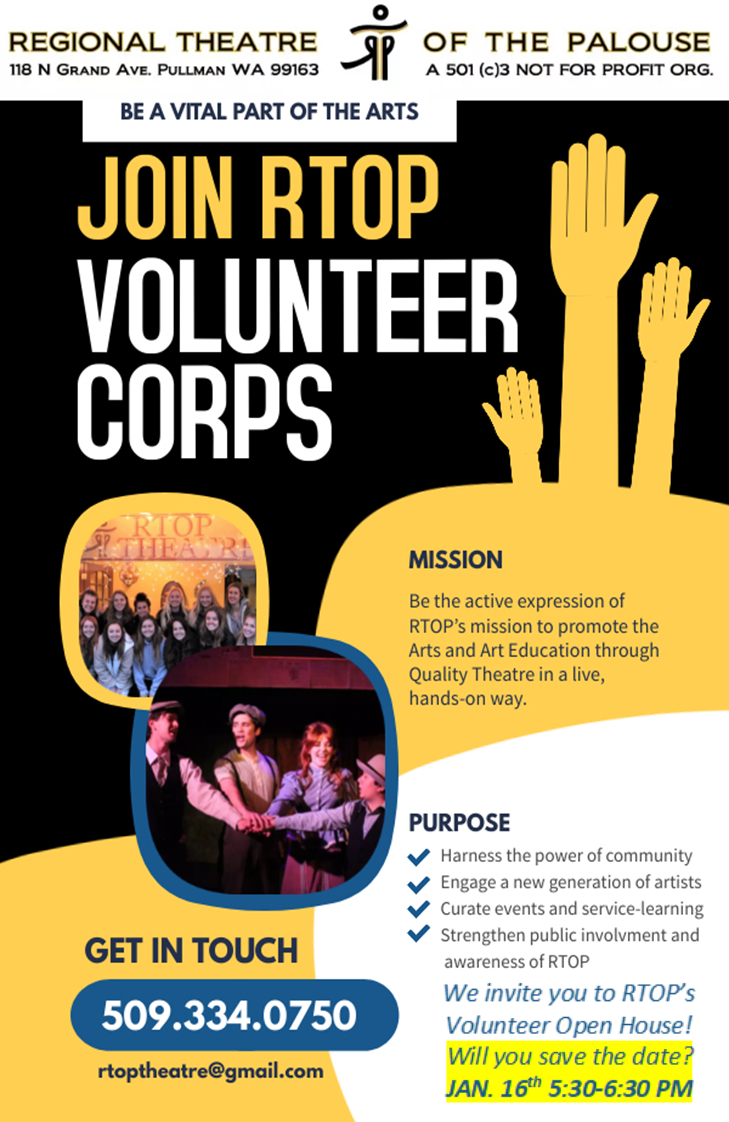 2022 End of year giving letter INSERT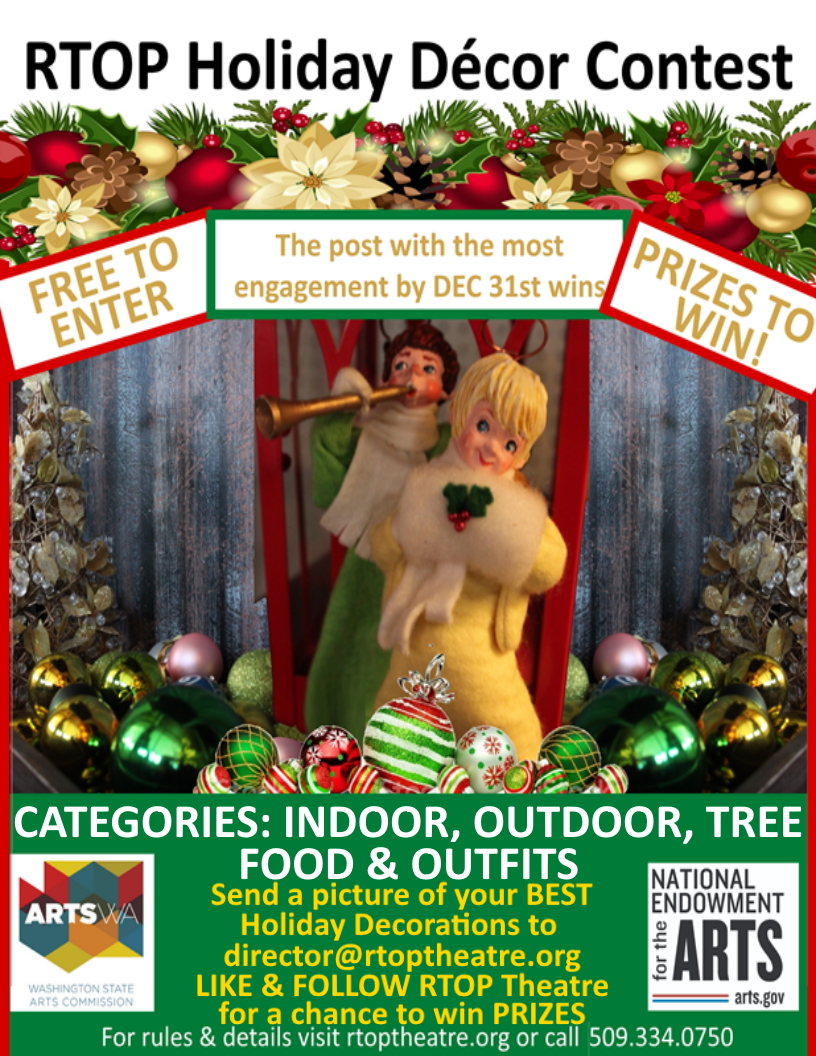 The contest period is from now to December 31st, 202
2. Prizes included local gift cards to Pullman businesses.
To participate send a JPG picture of you in your BEST Holiday décor to director@rtoptheatre.org
Please include a name, contact number, city/state, and photo description.
By submitting a photo you grant RTOP the right and permission to upload content to our social media channels and website.
Note: RTOP will not post last names, addresses, or phone numbers.
Content will be monitored by RTOP and if deemed inappropriate may be disqualified without question or explanation.
This contest is lighthearted and for FUN so participants agree to hold RTOP and related entities harmless.
By participating you affirm RTOP is not liable for anything of any kind including problems or technical malfunctions.
If there are any questions or concerns please submit them to director@rtoptheatre.org prior to entering.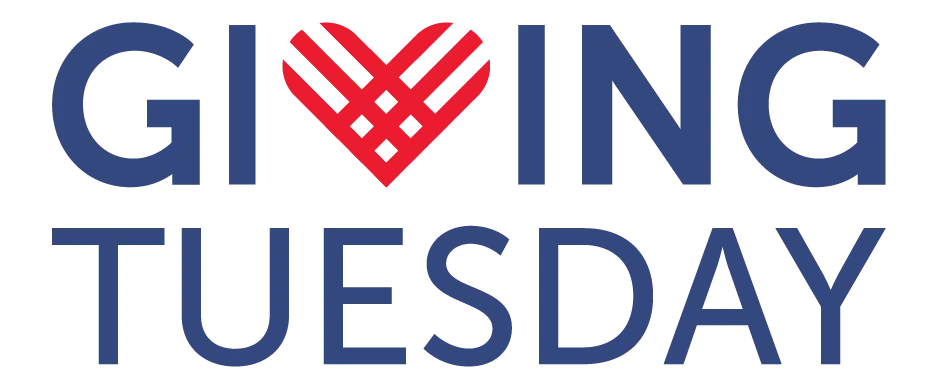 RTOP is celebrating GivingTuesday and we ask that you join us alongside millions around the world as we participate in the global generosity movement on November 28, 2023. – This GivingTuesday, RTOP will inspire generosity by raising money and volunteerism within our community. By November 28th we seek to raise $7,500 and secure 10 volunteers committed to vital operational roles.
GivingTuesday was launched in 2012 as a simple idea: to create a day that encourages people to do good. Over the past nine years, this idea has grown into a global movement that inspires hundreds of millions of people
to give, collaborate, and celebrate generosity.
RTOP joined Giving Tuesday to meet an important need and encourage giving here on the Palouse. Our mission is to promote the arts and arts education through quality theater which is only made possible with the help from committed volunteers, generous donors, people like you.
This year for Giving Tuesday, RTOP is raising social capital by opening volunteer positions to expand individual interest and talents. Roles include public relations, marketing, choreography, costume design, ushering, and so much more. Specifically, we are seeking 10 volunteers to pledge their time and talents as we finish our  current mainstage season. Every role can be tailored to fit any schedule and skill level All are welcome to turn their talents into innovation here at RTOP.
In addition to volunteerism we will be raising financial capital to establish RTOPs Endowment for the arts. Our goal is to raise and investing $10,000 into RTOP's Legacy Fund by the end of 2023. If you would like to participate in GivingTuesday but have limited time then there are many ways to make a difference in our community.
To learn more and consider the role you can play call 509-334-0750 or email rtoptheatre@gmail.com to speak with a representative. For more details about the GivingTuesday movement, visit www.givingtuesday.org.
Together we can! With Giving Tuesday, RTOP is shining a light on everyone who makes our mission possible.
Thank You,
John G. Rich | Founder | director@rtoptheatre.org | 509.344.0750
Learn more about donations here!